Decoding the altered World Test Championship ranking system
NEW DELHI: To the utter dismay of Team India, the International Cricket Council (ICC) has altered the ranking system for the ongoing World Test Championship (WTC 2019- 2021). This change has resulted in India sliding to the second spot from their undisputed No. 1 position.
ICC's Cricket Committee, which is spearheaded by Anil Kumble, recommended the change to ensure Covid-19 forced cancellations of matches doesn't put a team at a disadvantage.
So what is the new system? What has changed? And, how does it affect different teams? TOI gives you the lowdown…
What has changed?
Now, the team rankings will be calculated according to percentage of points (POP). POP is the percentage of points won by a particular team out of the total number of points contested in a series. For example, India has played four series in the WTC so far. The total number of points at stake from them was 480. Out of which, India has garnered 360 points till date. Therefore, its percentage of points is 75 percent.
Change in ranking
Under the new system, Australia are leading the table now. How? Australia have played three series in the WTC so far, which had 360 points at stake. The Baggy Green managed to earn 296 points from them. Their POP stands at 82.22, which is better than India's.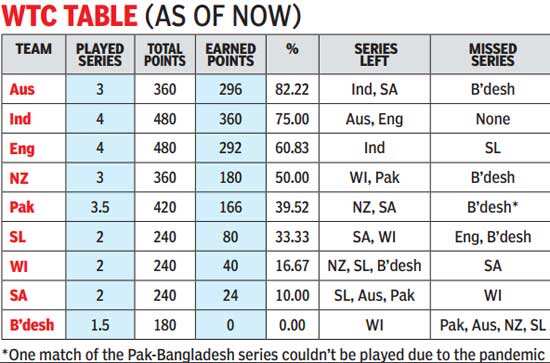 How does the new system work?
Originally, every team was scheduled to play six series in the WTC and could get a maximum of 720 points. If a team earns a total of 480 points from the six series it participates in, then its percentage of points would be 66.67%. If a team plays five series, then the maximum points that it is contesting on is 600. Let's say, out of the 600, it earns 450 points – then its percentage of points would be 75% and it would be ranked higher than the team that has played six series.
What has stayed from the old system?
When ICC announced the WTC in 2019, it stated that a Test series will have a total of 120 points at stake. A team will play six series altogether – three at home and three outside. Overall, a team could earn a maximum of 720 points. In a two-match series, a Test win would get a team 60 points. In a three-match series, one win would get 40 points, in a four-match series, one win would mean 30 points, and in a five-match series one win would mean 24 points. In case of a tie, points would be equally divided among the teams, while a draw would get a team one-third of the points that's at stake in the Test.
The ICC has retained the points distribution system, which means in the upcoming four-match Test series between hosts Australia and India, one victory would get a team 30 points, a tie 15 and a draw 10 points.
India's chances of playing the WTC final…
Although the possibility of any change in the top two is very less, New Zealand and England can upset India's applecart. NZ have two home series – against West Indies and Pakistan. Both are two-match Test series, which means 240 points at stake. If NZ win all four matches and India's results against Australia as well as the home series (of five Tests) against England next year isn't in their favour, then things will get tricky for Virat Kohli and his boys.
Source